Free 'Coffee Chat' - Business / Marketing / Career

See original

Translate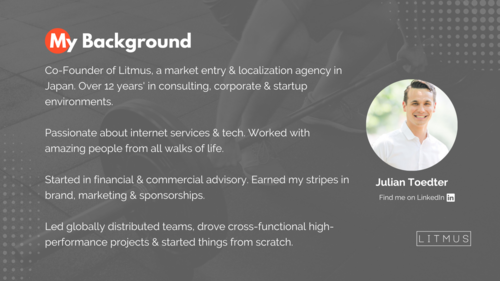 30 min

Free

1 attendees

Online
What is being offered?
I'm offering a free 30min '1-on-1 coffee chat' over a video call to help with general business, marketing, and career-related topics. This service is offered in English only.
Ahead of the call
The call will be informal, with no preparation needed. But to make the most out of our time, I'd recommend being ready to share some background to contextualize what you'd like to discuss, as well as having 1-2 key questions ready.
You can also share this information as a message ahead of the call when you make a booking.
If you need to cancel or reschedule, I'd request that you do it at least 24 hours in advance.
Who are you?
I'm a business professional with 12+ years' experience in consulting, corporate, and startup environments. I'm based in Japan and have worked across US, EU and APAC markets.
You can take a look at my profile or LinkedIn page for more details!
What's in it for me?
I can offer an outsider's perspective and a helping hand in most business, marketing, or work-related situations.
Whether you'd like a fresh take on a business idea, are looking for advice on a project or for work, or want an opinion on career and industry trends, feel free to ask!
At the very least, voicing out your thoughts can help crystallize whatever you're working on.
What's in it for you?
Simply put, I'd like to try and stay sharp in terms of interpersonal and problem-solving skills.
Disclaimer
I will maintain confidentiality regarding anything discussed during any messages and calls.
Any and all work (e.g., verbal, written, advice, etc.) conducted by me via any services rendered on this platform is on a non-legal, non-financial, and non-commercial basis. It should not be relied upon and should be used at your own risk and discretion.
I am open to discussing commercial and ongoing project work separately. This includes signing an NDA upon request and review.
See original
Translate