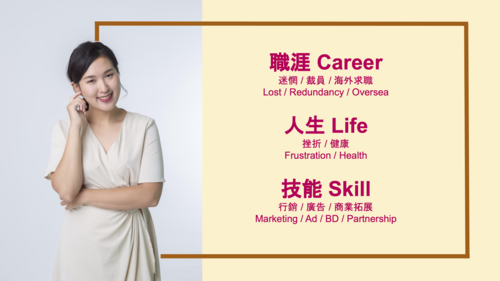 45 min

Free

1 attendees

Online
在新創科技的世界翻滾近10年,希望有天翻滾到全世界,目前則在倫敦開啟新篇章中。
大學主修心理,而後從事數位媒體行銷、商務與變現化拓展。
有過數次工作轉換到理想職涯、大幅度加薪
也歷經新創不穩裁員、健康因素暫停職涯
那些我走過的人生低潮,透過故事分享
帶給你新的觀點。
我能夠幫助你:
職涯探索/解惑
跨越人生低潮
英國求職、生活分享
行銷/廣告/商務拓展等技能分享
----------------------------------------------
I've spent close to a decade in the fast-paced world of start-ups, facing layoffs, over 50% salary increases, job changes, and even diagnosing the chronic disease.
Let me share my stories how to overcome career and life setbacks and offer fresh perspectives.
I am here to help,
navigate your career,
overcome obstacles,
UK job seeking, or
master skills like marketing and business development.
See original
Translate